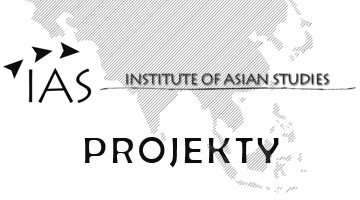 Tento projekt (IČ projektu: 21320107) bol koordinovaný Inštitútom pre svetovú ekonómiu Centra pre ekonomické a regionálne štúdiá Maďarskej akadémie vied v Budapešti (Institute of World Economics, Centre for Economic and Regional Studies, Hungarian Academy of Sciences, Budapest).
Výskum sa koncentroval na analýzu finančnej prítomnosti Číny v krajinách V4 pred a po finančnej kríze. Analyzoval korelácie medzi krokmi vlád jednotlivých krajín V4, ktorými sa snažili pritiahnuť túto finančnú asistenciu a čínskou ekonomickou agendou v tomto regióne.
V júni 2014 bola úspešne zavŕšená prvá časť projektu, ktorej témou bola "Chinese financial presence in Slovakia and Slovak China-policy",predstavením výsledkov na konferencii vo Varšave.
Výsledkom projektu je kniha Chinese investments and financial engagement in Visegrad countries: Myth or reality. Publikácia skúma úroveň čínskej finančnej prítomnosti v krajinách V4 pred a po vypuknutí globálnej ekonomickej krízy. Pozornosť je venovaná i politickým záujmom oboch strán a vnímaniu čínskej finančnej prítomnosti verejnosťou. Prípadová štúdia o Slovensku bola spracovaná zástupcom riaditeľky IAS, Richardom Q. Turcsányim.
Viac informácií o projekte nájdete na: http://vki.hu/Chinese_financial_assistance_in_V4