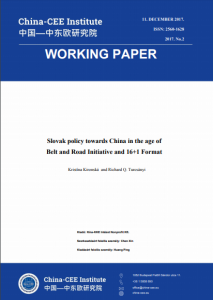 The working paper by Kristína Kironská and Richard Q. Turcsányi published by China-CEE Institute looks into Slovak policy towards China in the context of Belt and Road Initiative and 16+1 format.
Although Slovakia was among the first countries to sign the memorandum with China on Belt and Road (BRI) initiative in 2015, the involvement of Slovakia in the initiative has been minimal until now. Slovakia is also located outside the six main economic corridors planned by the Chinese side as the backbone of BRI. However, some Slovak experts and officials see a potential that a new transport corridor from China via Russia, Ukraine and entering Eastern Slovakia could be opened and serve as an alternative option to the Northern route going via Poland. The Slovak government started to pay more attention to China in 2017, and it remains to be seen whether its newly drafted strategy may bring some fruits with regards to these plans. As for the Slovak media, however, the BRI is not much known, and there is relatively little coverage of the initiative.
The presented paper aims at answering the question of how Slovakia has approached China in the recent years, particularly in the contexts of the Belt and Road Initiative and the 16+1 format. This paper addresses the perception of BRI at the official and media levels in Slovakia and sheds light on projects that Slovakia wishes to see come to light.
The structure of the paper will begin, firstly, with the context in which the current Slovak-China relations are taking place. For that reason, the trade and investment statistics will be briefly presented, together with the relevant media information and the information received from the interviews regarding the most recent development. Secondly, the analysis of the two crucial strategic documents of the Slovak government vis-à-vis China will be offered, to understand what is the official position towards China. Following that, thirdly, we will look at the media image of China, notably how the Slovak media reported about the BRI and 16+1 format. In conclusion, a discussion about the potential development of Slovak- China relations will be offered.
Full paper can be downloaded here.