The following text is a summary of an invitation-only discussion organized by the Central European Institute of Asian Studies (CEIAS) in Bratislava in July 2020, attended by the representatives of executive and legislative branches of Slovak Republic, as well as Slovak MEPs and experts from universities and think-tanks. The summary presents an interpretation of the discussion from the perspective of the CEIAS, individual opinions are presented without being assigned to particular participants or represented institutions.
Currently, the Slovak Republic has a minimal presence in the region of East Asia. This ranges from the lack of diplomatic missions to a minimal presence of trade and investment agencies.
Nevertheless, East Asia is an important geopolitical and geo-economic center with its potential only growing in the future. East Asian Countries also play a seemingly important and significant role in the economy of the Slovak Republic, with their combined investments amounting to billions of euros. However, not all the investment from all the countries can be treated equally.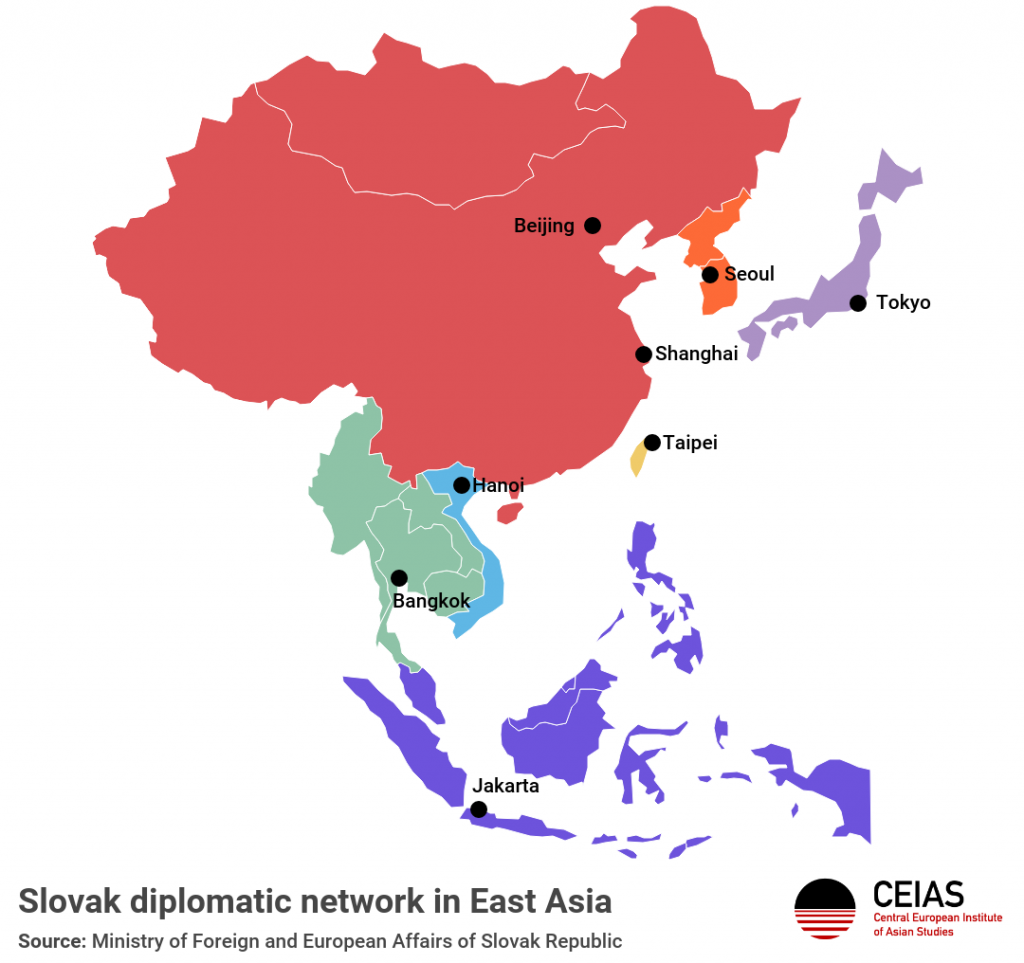 For example, Chinese investment has been falling in all of Europe since 2016. And in recent years it has been increasingly seen as a potential security threat, with examples of media-acquisitions leading to changes in the narrative regarding China. This all has been coupled with a differing position of European countries towards East Asian countries, with some cooperations working on the sub-EU basis (e.g. 17+1 cooperation, V4+Japan…) and others on EU-wide basis (e.g. EU-South Korea FTA, EU-Japan EPA…). Thus, important questions in the discussion included:
How should Slovakia look at investment coming from East Asian countries? Should it strive to pursue getting more investment from countries already present, or look for new potential partners?
How much can Slovakia achieve in the context of EU common foreign policy towards East Asia? Should it strive to pursue different sub-EU cooperations instead?
What role can and should the EU have in the context of foreign (in this case East Asian) investments?
Where is the limit for Slovakia's interactions with Taiwan? Can it act so to better their economic relations, but at the same time preserve relations with China?
Attracting further investments from East Asia
Currently, there are two main narratives regarding getting more East Asian investment into Slovakia. The first one is more aimed at improving the relations with countries with which Slovakia already has well-established connections, such as South Korea, whose companies (e.g. KIA Motors, Samsung, Mobis, etc.) already contribute significantly to Slovakia's economy, both in terms of tax revenue and employment.
The second one is focused more on establishing relations with countries not already well present in the country, such as China. This stems mainly from the idea that it is rather hard to get more investment coming from a country which already invested large amounts, and thus has less disposable money to spend.
However, it is crucial to also contextualize the potential investments. The current economic landscape is fast-changing, with the potential for new technologies increasing. Therefore, it could be easier to motivate current investors into establishing new companies, focused on new technologies, instead of expanding the number of investors coming into the country. This can be especially helpful in the context of East Asia, with the region being overwhelmingly present in the field of tech in Slovakia.
Furthermore, there also seem to be other issues regarding getting more investment from East Asia. Firstly, countries seem to have much easier access to getting investment from East Asia if they already have a certain presence there. Examples of Poland's and Czechia's trade agencies present in the region prove this. Slovak Investments and Trade Development Agency (SARIO), on the other hand, is largely missing from this region. This can prove to be an issue, especially for small and medium companies trying to get investment but lacking in money to do so. Secondly, there is a potential conflict of interest with our regional partners. In the case of incoming foreign investment, the companies tend to look for better opportunities in the already determined region. It is not only important to improve on the outreach Slovakia has in East Asia; it is also crucial to make sure it can offer more to potential investors than its neighbors. This can be done by more support for the sector from the side of the state, or by other direct benefits that can be offered to potential investors.
The Slovak Republic operates in the context of the European Union more than outside of it. The relations and deals that EU signs are still very important for how easy it is for Slovakia to trade with and attract investment from East Asia.
The changes in the EU's narrative regarding China will surely impact the possibilities for Slovakia to get investment from there. Even though Slovak politicians may be inclined to believe that they have a better ability to negotiate by interacting with China or other East Asian countries on a sub-national level, such as the 17+1 cooperation, the reality is quite different. By giving China the ability to treat some countries different from others, this form of cooperation is often believed to exploit 'cracks' in the structure of the EU.
Angela Merkel has been heard condemning the 17+1 cooperation, largely due to this reason. But it is still important to realize that the potential for 1+1 cooperation on the level of individual countries with China is rather non-existent. Thus, it seems that Slovakia must operate within the context of EU common foreign policy primarily and not go above the extent of these policies, even in the case of sub-EU cooperation. Therefore, it is important to consider what the EU can mean for Slovakia's chances of getting foreign investment.
EU as a safeguard
During the last couple of years, there have been certain legislative acts passed on the EU-level, thanks to which all member countries are required to craft comprehensive investment screening laws by November 2020. Slovakia's investment screening mechanism is currently being drafted, while all the other V4 members already have passed such laws or are currently discussing them in the parliament.
Furthermore, EU laws have ensured proper competition in the case of Chinese investment in Hungary's side of the Belgrade-Budapest railway. Also given the potential of COVID-related economic crises to harm the wellbeing of many companies, it is crucial to enact legislation and other non-legislative measures, to protect them from being bought up by China and prevent potential security risks.
Lastly, the general narrative in the EU regarding China has been growing more cautious in recent years. This caution only grew in the context of the COVID-19 pandemic, and China's failure to help prevent its spread. The EU is also an important trade partner, and many Chinese products are being imported to the EU. Thus, the EU is not holding the shorter end of the stick, and can still very well negotiate, to make sure that it gets what it needs. At the same time, the cautious sentiment present in the EU can help prevent potential overreach from the side of China.
The Taiwan question
Czechia, a close neighbor of Slovakia is currently undergoing a certain specific clash between its internal and foreign politics. While the official state narrative is that they do not recognize Taiwan as a sovereign country, there has been an increase in the high-level interactions, with the current president of the Senate even planning a trip to Taiwan in upcoming months. This has led to not only political clashes with China but also to internal clashes between different domestic stakeholders with differing opinions on Taiwan.
Given that Taiwanese companies pay the 3rd most taxes amongst East Asian companies in Slovakia (only behind South Korea and Japan), Taiwan holds a significant economic value for Slovakia. With the change of Slovakia's government, and ex-opposition politicians, who have been largely supportive of Taiwan joining the government, it is important to consider how this will impact Slovakia's position on this issue.
One participant remarked, that on the issue of Taiwan, Slovakia should however probably look at neighbors other than Czechia, for example, Hungary was capable of improving its relations with Taiwan even without angering China. This has been done for example by masking such relations behind the cover of furthering its cultural influence, such as by organizing book fairs. It is crucial to establish a clear goal for such interactions, without the need to frame Taiwan as 'anti-China' as this can only lead to unhelpful escalation with China. There is also the possibility of furthering the interactions with Taiwan through the apparatus of the EU, as there already is a certain level of cooperation present on a non-official level.
Preventing confused action
Overall, it is important to realize that Slovakia is capable of achieving much through the European Union and its institutions, while at the same time it can influence the EU's decisions. The possibility of direct, consistent, and fair one-on-one interactions between the Slovak Republic and East Asian countries is still rather unfeasible, and thus it should probably use all the possibilities it has, while not undermining the general EU discourse.
Slovakia, however, still doesn't have clear goals regarding how it wants to treat and be treated by East Asian countries. Further discussion, for example in the parliamentary committees, would help clear this up and prevent the potential for future confusion.