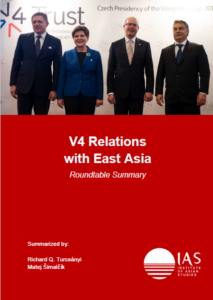 Institute of Asian Studies organized an expert roundtable on November 14, 2018 in Bratislava, Slovakia. The aim of the event was to discuss the current state of relations of Visegrad Four (V4) countries with China, Japan, South Korea, and Taiwan, as well as to propose possibilities of further cooperation and coordination among the V4 members vis-à-vis East Asian partners.
This briefing paper summarizes the views of the roundtable participants. Among those who attended the event were think-tankers, academics, diplomats, businesspeople, and journalists from all the V4 countries (Slovakia, Czechia, Hungary, and Poland), altogether about twenty professionals dealing with East Asia. As the roundtable discussion followed Chatham House rules, no views in this report are attributed to a specific person.
Organization of the roundtable discussion was supported by International Visegrad Fund, Ministry of Foreign and European Affairs of the Slovak Republic, and Taipei Representative Office in Bratislava. We express our sincere thanks to the supporting organizations.
V4 Relations with East Asia