Nearly one million stateless Rohingya people who fled brutal ethnic cleansing in Myanmar have been languishing in extremely congested refugee camps in Bangladesh for the past five and a half years.
While the United States recently announced a resettlement program for Rohingya refugees and the UK resettled around 300 Rohingya from the camps prior to 2020 under a now-defunct scheme, this hasn't caused even a dent in the number of people living in the world's largest refugee camp.
No other countries have accepted refugee applications from the camps, but the Bangladeshi Foreign Minister AK Abdul Momen has expressed optimism that a good number of Rohingya may eventually be resettled by the US and others.
Since 2008, Australia has granted visas to just 470 Rohingya under its special humanitarian program – a very small number considering the extreme need.
All of these refugees were accepted into the program from Thailand, Malaysia, Indonesia and other countries in the region. This creates a perverse incentive for Rohingya from the Bangladesh camps to get on rickety boats and make the dangerous sea journey to those countries.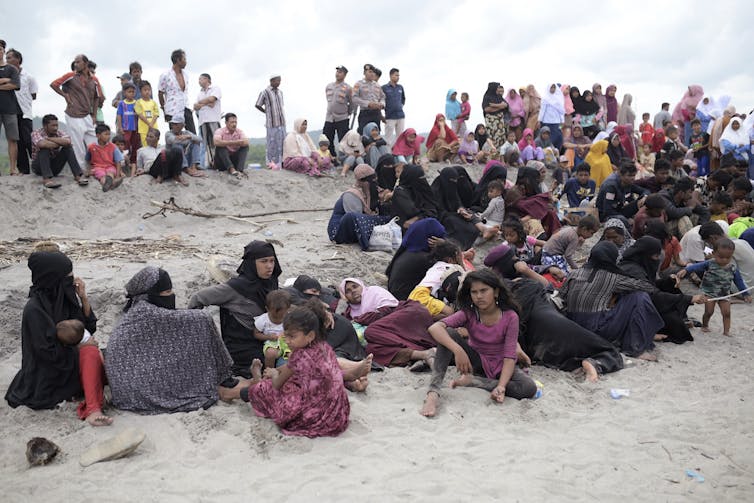 UN figures show a more than 360% surge in the number of Rohingya who boarded boats to try to get to Malaysia and Indonesia last year, with 3,500 making the journey, compared to just 700 in 2021.
In early February, Momen called on Australia to do more to resettle the Rohingya stranded in his country.
"Australia is relatively more resourceful, so I think it's high time Australia come forward and resettle some more of those distressed people. […] Australia has the capacity, it has the resources — there's only a need for a political mindset."
According to our new research, there is public support for this to happen. In surveys conducted last year, a majority of Australians and New Zealanders said they have positive views about the Rohingya and support the resettlement of more Rohingya refugees in their countries.
Increasingly dire conditions
The UN high commissioner for human rights has called the violence the Rohingya suffered at the hands of the Myanmar military a "textbook example of ethnic cleansing". And a major UN investigation confirmed the mass killings and rapes were committed with "genocidal intent".
There is clearly no hope of the Rohingya returning to their homes for the foreseeable future. A military coup in Myanmar two years ago brought to power the very army that perpetrated the crimes against the Rohingya.
And they have a very limited future in Bangladesh, where the authorities have recently been restricting their livelihoods, movement and access to education.
A UN humanitarian appeal to support the Rohingya refugees received only half the funding required in 2022, leaving many needs unmet and Bangladesh to shoulder much of the burden.
The situation became so dire last November, the UN Central Emergency Response Fund had to release US$9 million (A$13.4 million) in emergency funding just to make sure the refugees had enough food, water and sanitation items.
So, in the absence of a repatriation plan, can the world be persuaded to accept more refugees?
What our research found
Our research shows a majority of the public would support this in Australia and New Zealand.
We recently reviewed data from a large-scale online survey as part of the Sinophone Borderlands project investigating global attitudes towards China and other issues. The survey collected responses from over 1,200 people in 56 different countries between 2020 and 2022 – more than 80,000 altogether. Several questions asked about the Rohingya people specifically.
When asked how positively or negatively respondents felt about the Rohingya people on a scale of zero to 100, the average Australian response was 53.6, while in New Zealand it was 60.8.
There was minimal variation by gender or when comparing urban versus rural, but we saw more positive responses among those who were educated, younger and satisfied with their country's political situation and/or their own economic wellbeing.
When asked specifically about their level of support for the resettlement of displaced Rohingya in their country, responses were actually more positive.
Asked to represent their support on a scale of one (definitely no) to seven (definitely yes), the average (mean) response in Australia was 4.20 and in New Zealand it was 4.54. Again, there was minimal variation by gender, but more highly educated respondents were more positive.
Interestingly, we didn't notice much variation when it came to political party, either. Unsurprisingly, those on the left responded with higher levels of support for Rohingya resettlement in both countries. However, the average level of support was still more positive than negative for voters of all main parties.
What Australia and New Zealand are doing
Australia's response to the Rohingya crisis has been to provide humanitarian aid, but it has resisted calls to resettle any of the Rohingya from the camps.
When we contacted the Home Affairs department about this, a spokesperson responded by saying the government is "committed to generous and flexible humanitarian and settlement programs that meets Australia's international protection obligations".
"The UNHCR and the international community continue to work on creating conditions for a safe return of Rohingya people to Myanmar. Australia's response continues to focus on humanitarian aid to Bangladesh and Myanmar.
Any persons, including Rohingya, who believe they meet the requirements for a humanitarian visa and wish to seek Australia's assistance can make an application."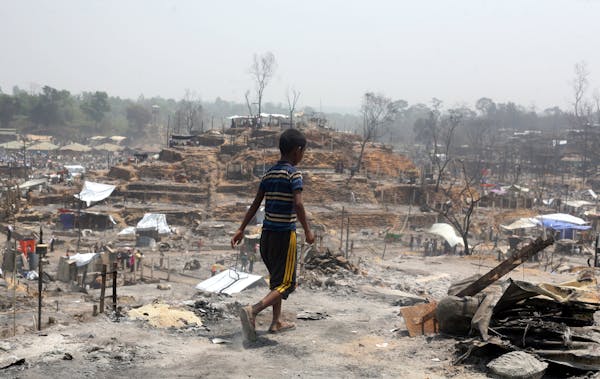 Indeed, Australia has been generous in its humanitarian response to the Rohingya. It was the second-largest country donor in 2022, giving about $A20.4 million (plus another $A16.7 million from private donors in Australia).
New Zealand's response has been largely the same, committing about NZ$1 million (A$918,000) last year, but offering no refugee resettlement places specifically from the camps.
Our research suggests there is solid support for policy changes in both Australia and New Zealand, including among even conservative voters in both countries.
On the basis of this data, we strongly urge the Australian and New Zealand governments to reconsider their refugee intake policies and create a special Rohingya category to resettle refugees from Bangladesh.
---
Kristina Kironska is a socially engaged interdisciplinary academic with experience in Myanmar studies, Taiwan affairs, and election observation. Currently, she is the advocacy director at CEIAS, while also conducting research at the Palacky University Olomouc and serving as a Board Member of Amnesty International Slovakia. She is the head of the Myanmar Coup Tracker initiative.
Anthony Ware Associate Professor in International & Community Development, Deakin University
This article was originally published by The Conversation.
Photo: Cathal McNaughton / Reuters